Three new products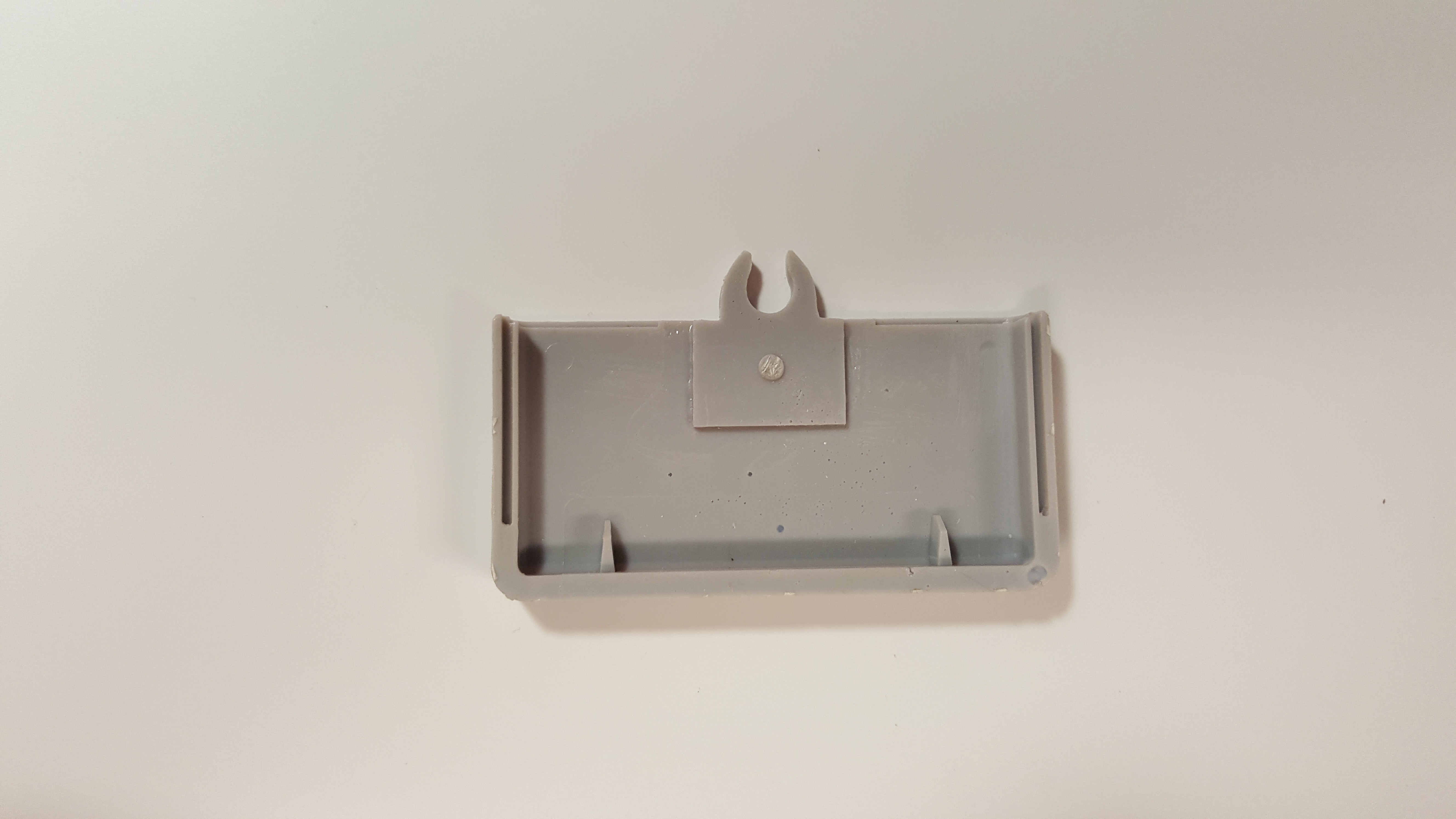 CMRProducts.com is proud to announce the release of 3 new products in our Digitrax line.  We are offering 3 polyurethane cast replacement items for your digitrax throttles.
First our replacement battery box cover, available in grey but can be painted to suit your needs.  This reinforced battery cover will take a lot more abuse from the constant opening and closing of the battery box.  This is made from the same durable polyurethane that our BigDawg Originals line of shells is cast from!
Next are two battery box cut off switch kits.  These kits will add a button to your UT4 or DT402 throttle to allow you to cut the power from the battery.  This prevents battery draw between sessions, so you don't need to bother pulling the battery out.  Again these are available in grey but can be painted.  Maybe a color to match your railroad, so that your throttles stand out in a crowd?
Adding a Switching System to your new Layout
With the addition of a few sidings, a staging area and a ramp out of my first town, the question is posed to me, when is your first operating session?  Operating Session?  The layout isn't even wired yet!
The question that was posed does make me wonder though, which system do I want to use and how do I implement it?
Which Switching System is the right system?
This is quite a hot topic if you ask anyone in the group. Everyone has their own opinions and each system has it's pluses and minuses. So I won't get into which system is the "Right" or "Correct" system. You guys can fight that one out on your own.
What I can say is what is out there and what drove me to the decision that I made.
The 4 main systems I've seen are
Car Cards – Each car has its individual card that has a slip of paper designating current and next destination
Car Routing Lists – Each car has a list of multiple stops along the layout, as this is accomplished, the current stop is checked off and the car is routed to the next stop.
Switch Lists – Computer generated switching lists and train orders containing how the train should pick up and drop off cars from industries along the way
Pin System – Colored pins on cars designating towns and industries
Within the operators group that I work with (I-80 Group) there are many examples of each of these systems. Each layout has their system honed to a well oiled machine. I've had the opportunity to operate on a couple of these layouts and here is my take on things.
Car Cards
Example – Dave E. – Jamestown NY
This was one of the first layouts I visited outside the Clarion Club. I was amazed by how the layout ran, and is still one of my many favorites to visit. Upon arriving at your assigned job (yard!) you are greeted with a list of trains that need to be made up, car cards in boxes and the work begins. My co-operator will pull cars from industries while I start making up trains. The cards have the car number, car type and road name on them, along with an insert saying where the car was to go. Nice parts of this setup is everything is planned out, as if the cars were left in the perfect location for the operation. Dave's team makes sure our operations go well, and probably hours cleaning up after we leave. I know the first time I was there, I didn't understand the "Hold" section in the car holders… let alone that there were industry specific holders around the area I was assigned. I imagine now that the person that was cleaning up after me cried in pain as they had to pull out each car to see where the card belonged. Let alone those cars that left without their card. Utter nightmare… I'm so sorry for the pain I know I've caused.
There are several reasons that I don't think this system will work for me right now. First and foremost, I would need to not only renumber all my duplicate cars (Off hand 30 LEF&C Box cars?? ) It's N-Scale! While I'm young and I can see the numbers (sometimes), I've found myself getting frustrated trying to find a car number in a string of cars with the same road name. Not to mention I would need to create cards for each car. I remember doing this with my dad for the club layout. What fun.
Another reason is there are a couple very short people in my house that refuse to play with their own toys, and want to play with mine. There are a number of times I'll arrive at my layout, two chairs are side by side and Ellie (11) and Cam (7) are switching cars between all the tracks. I could imagine them playing 52 card pickup with my car cards as well. I could see myself pulling out my hair just trying to keep things in order between sessions. Where is the card for this car?? Why is there a tank car in this tree? Cam were you playing with Daddy's trains… Giggle giggle… runs away.
While a very good system, this probably won't work on this layout… for now…
Car Routing List
Example – Jim B. – N-Scale – Clearfield PA
This was my first operating N-Scale layout that I had an opportunity to run. The layout was kept in a garage in Jim's backyard. As you arrive in the layout you see similar boxes to a Car Card system. The main difference was the cards had multiple industries listed on them. This card had every stop the car would make, in order, around the layout. Key points about this was design and flexibility. All the planning was already complete for the layout. the only issue was when new cars were added to the layout, you would need to add a routing list for the car. Flexibility existed because trains were not set, and errors could easily be overcome with the next train through. You missed a car… No issue next train can get it.
There were a couple of things I would issues converting to my layout. First again is the individual car numbers… Still can't see. Next I could only imagine getting by some crazy timing, all the cars on the layout needing to be in a 3 car long track. In addition, this system is best for a layout that is already built. Since I'm just starting out this would need to be redone and redone again. A spreadsheet or database would make this easier, but still would need to be redone as the layout grows.
For reasons similar to the car card system, this one will probably not work either.
Switch List
Example – Tom S. – Mars PA
I'm a computer nerd by trade and by choice. I spend most of my day on the computer and most of my evenings as well. So when I heard a computer system could run my layout, setup my switch lists… Dynamically as the trains are going around the layout! Awesome… let me try this out.
Had the opportunity recently with Tom's layout. While still in the first stages, I definitely could see some great points to the setup. First the system would be able to setup trains based on what was in the yard, and what should be going out. Then tell the crew what engine to put on the train and off we go.
It would be able to setup which cars get set off at what industries, track contents and make appropriate moves of cars. This car has Garbage in it? Well it shouldn't be set out at a feed mill for loading…
The system also operates close to prototype operations, giving that realistic feel.
The system is very flexible. We were able to assign specific tracks for cars, change industry capacities with just a couple of clicks, and as towns were added, the system continues to grow with you. These are some big pluses.
While this would be great to have on my layout, the same issues keep coming up. The system is only as good as the information in it. A philosophy of Database Administrators "Garbage in = Garbage Out" If the cars are not where the computer thinks it should be, then the switch lists are incorrect. 2 little creatures moving cars around the layout would cause me to lose all the time typing into the system. Still can't see car numbers and I'm still too lazy to renumber everything by hand.
Pin System
Example – Bob H – Miola PA
My first experience with the Pin system was Bill D. layout in Punxsutawney PA. Color coded pins representing towns and industries. After the colors were decided, it was a fairly simple system to operate. I figured it out the first time I operated it.
I had the opportunity to see how Bob developed his layout pin system, town development, industry placement and how things have changed over time.
The biggest benefit with this system is the car numbers don't matter. So what if you have 30 cars with the same number… the trash can lid on the roof tell you where to go. The system is also flexible, cars get missed, moved, misplaced and set into trees along the rail line… no problem, put the cars on the track, remove the tree debris, and move them to the closest passing siding.
Setup? Outside repinning the layout and the pin design, the layout mostly runs itself. Trains are ran as needed, if a schedule exists, awesome, but not required.
Problems – Realism. There are trash can lids on your cars. In N-Scale they are not trash can lids, they are the size of a VW Beetle. So realism is thrown right out the door. Also attaching them and throwing the car balance off is sometimes an issue. In HO or O scale, the pins that are commonly used are small and don't really affect the balance of the car. In N-Scale, this starts to be an issue, and in Z it would be about impossible.
So I reviewed the systems that I'm familiar with and came up with some issues that I need to overcome with my design.
Issues
Need something that is resilient to children. Not child proof, just something that can recover when they are using the layout
Little to no modification of rolling stock. I find myself without much time now, adding this work to the layout is just not in the picture at this time. I have enough problems getting engines decaled
Minimal maintenance, Audits of the layout are good, audits of the layout all the time are bad. Double checking every car position just before operators arrive while keeping kids away from the layout? Highly unlikely
The system I've chose was the Pin system due to it meeting most of my requirements… aka I'm too lazy to renumber everything I own and my kids keep moving my stuff around.
What system is best for you? I would try them all out and find the things that work best and customize it to your ideas. The best part about an operations group is there are regular operations on a number of layouts. All with their individual takes on operations. Try a couple out. Try them ALL out. Once you see what works for them, you can make something that works for you too.
Key thing to keep in mind, No system is perfect, and everything has it's quirks. Learn how each layout owner designed his system and learn from it. Mold your system into a blend of all those systems in the past. Make something that works for you and your time. It's a hobby after all, let's make it fun.
Next time I'll explain how I'm developing my version of the pin system to make it work for me.